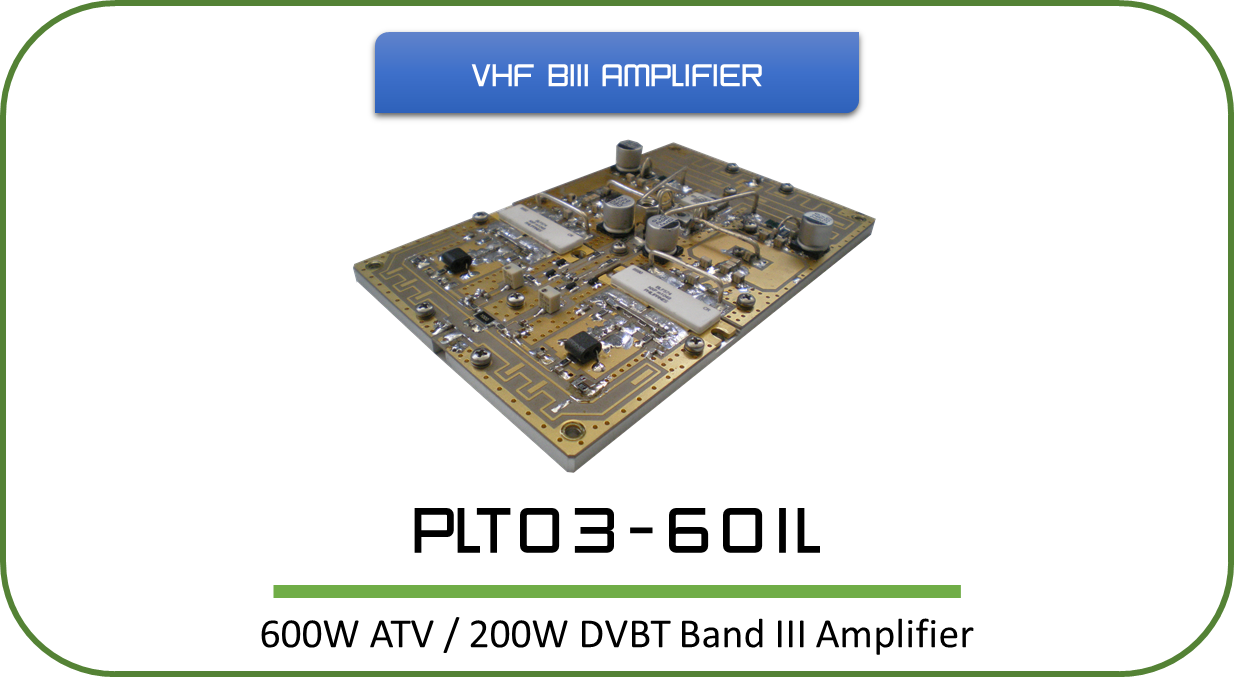 General information
Designed for analog and digital TV transmitters and transposers this RF amplifier incorporates, simple design based on microstrip and stripline technology, PTFE PCB, planar balun and pushpull LDMOS to enhance ruggedness and reliability. Very low thermal resistance is obtained by means of a silver plated copper base‐plate coupled with latest generation printed circuit board material and devices. The RF block amplifier (pallet) is easy replaceable without any soldering and alignment, it comprises circuits for stabilising the operating point and current monitoring readout.
Technical Specifications (th = 25 °C ; 50 OHm loaded ; Vdc = +48Vdc) 
Frequency range:  170 to 230 MHz

Class operation:  AB linear

Input ‐ Output impedance:  50 OHm

Input return loss:  

>

13 dB

Input power:  3 Wps max. (ATV) / 1 Wrms max (DVB‐T)

Output power:  600 Wps max (ATV) / 200Wrms max (DVB‐T)

Power gain:  23.5 dB ± 0.7 @ 500W CW 

Harmonics emission:  

<

30dBc

Power supply requirement:  +48Vdc ±2% ; 30 A max.

Protections:  VSWR = 3:1 @ 300W CW / Overdrive 3dB cont.

Drain efficiency:  

>

 43 % @ 300W CW
Heat sink requirement:  

<

 0.07 °C/W

RF input / Output:  Solder post

Size:  95 x 149 x 20 (H) mm

Weight:  250gr.

 
---