EasyConnect provides the full management of the our systems without requiring the operator presence.

The operator can obtain information at the same time through a user-friendly interface represented by a 7" touch screen graphic. The Touch menu enables the complete control of your system.
The Central Control Unit (CCU) provides the full management of the systems at various level, down to the single Module Amplifier, without requiring the operator presence.
The control system includes a fault finding capability for detecting the equipment malfunctions and locating the faulty subassembly that needs to be replaced; the basic controls, such as Start – Stop –Standby – Reset and power readout are permanently available. A user-friendly interface allows the operator to control the start-up sequence, the turnoff of the amplifier and to select the mode of control (local or remote). 
The interlock circuit is independent from the software and remains always operational either with the presence or not of the computer control.
The Control Unit controls all the subunits and provides to the operator the information relevant to the machine status.
This Unit communicates with the other subsystems, in order to acquire from them, through proper sensors, information about their status and the values of the significant parameter for the operation of the System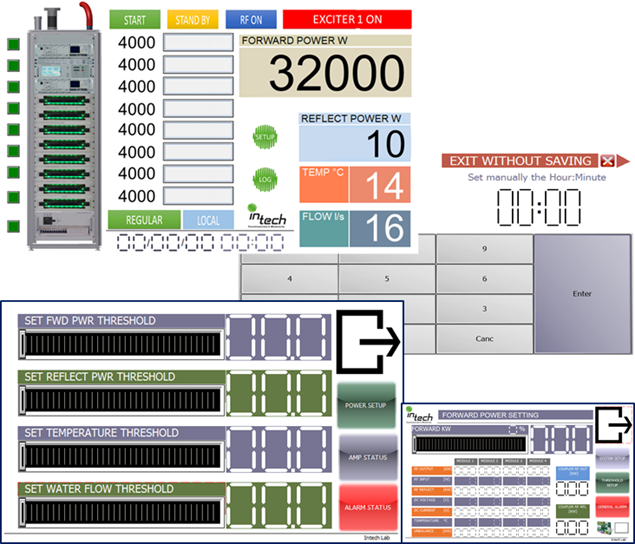 Our systems can be fully controlled in REMOTE mode via a WIFI/LAN Web Server.
The embedded  web server allows, like the touch screen, a real-time display of the most important control parameters and the presence of alarms.  
In case of alarm, the system automatically sends an e-mail to predefined addresses.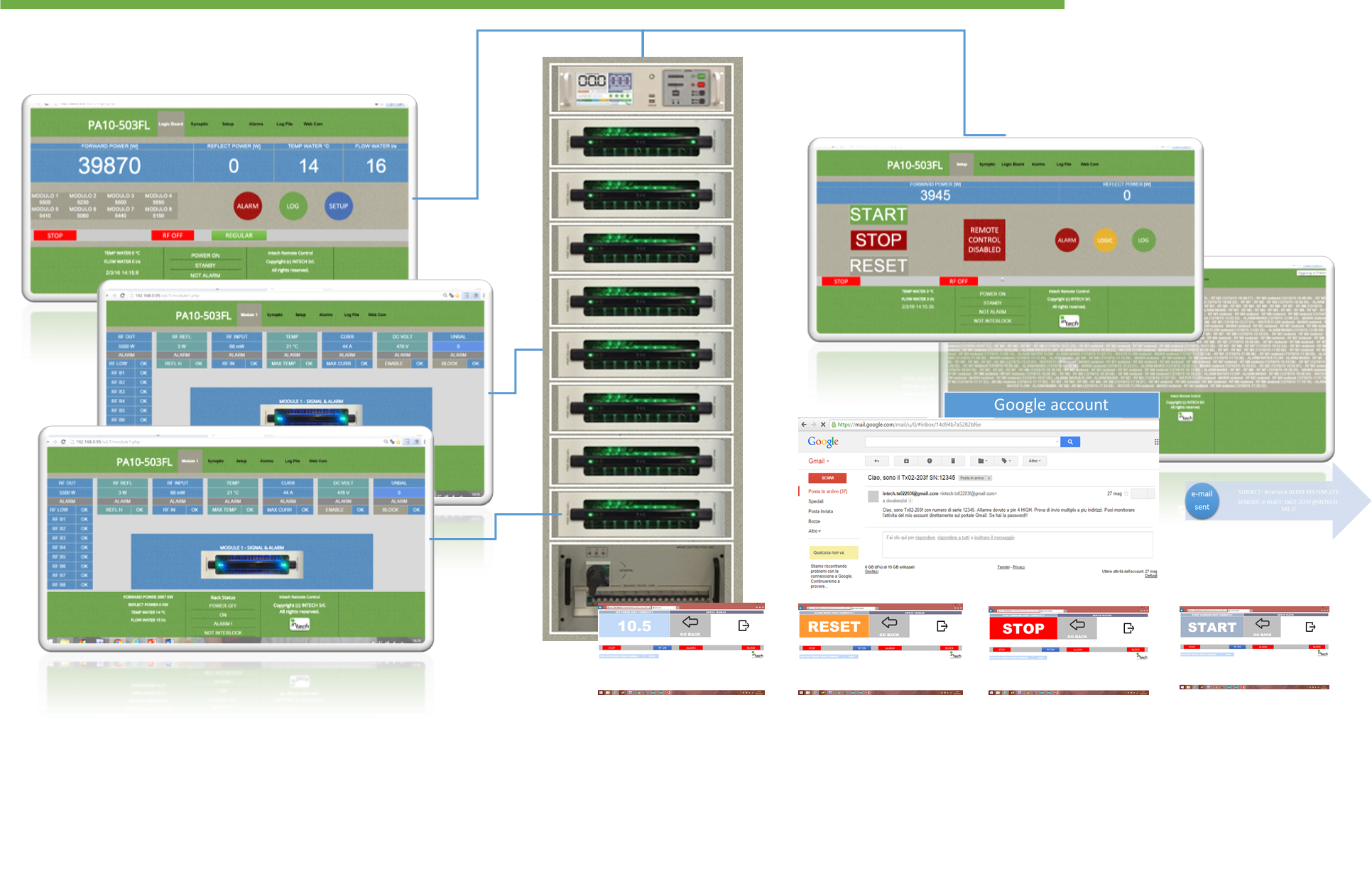 It can be accessed by a PC , a Tablet and a Smartphone: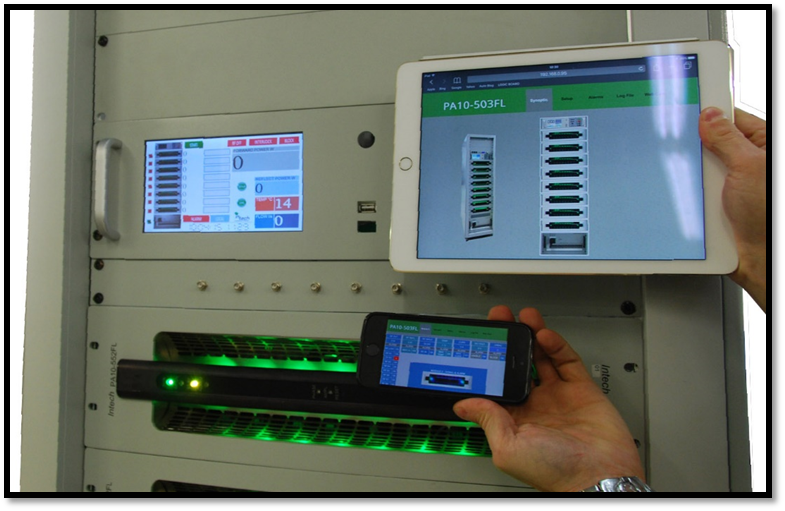 The integrated web server allows as well the control of the exciters by browser: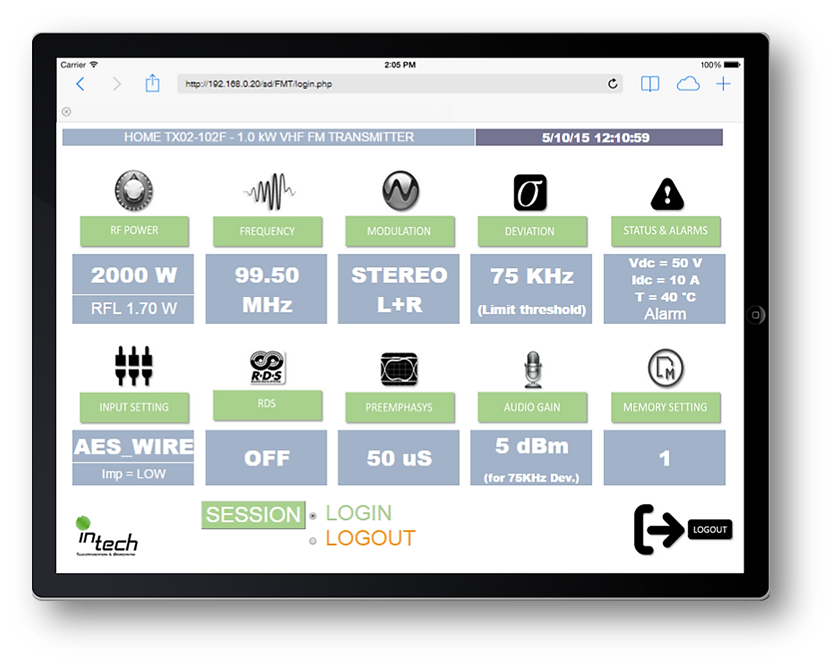 EasyConnect provides complete monitoring of SNMP (Simple Network Management Protocol.
SNMP monitoring allows administrators to monitor all devices connected to the remote gateway.
The user only needs to load a MIB file and select the SNMP OID to be monitored. You can use pre-definited dashboard and graphical displays. You can also enable SNMP trap reporting.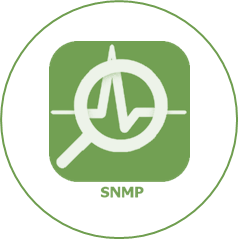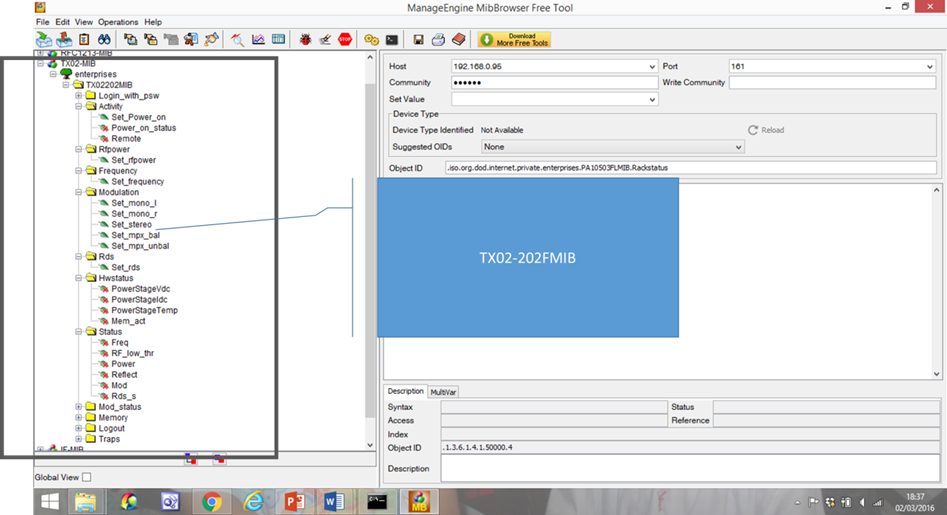 A Web camera can be connected to the USB port on the MCU front panel allowing the display of video in real time on a web browser; such a video can be very helpful in checking the status of the environment surrounding the transmitter in the station.