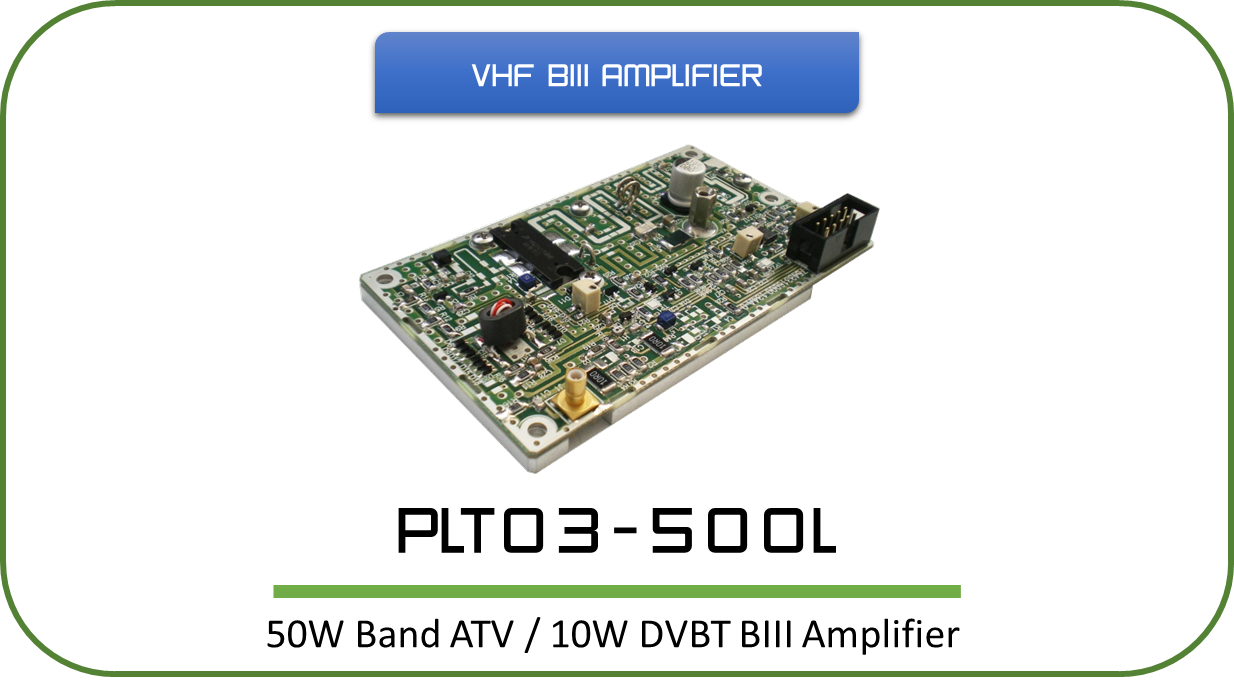 General information
Designed for band III amplification as final and driver stage, it includes only one device capable of 50W RF output. The RF module is provided of the simple processing to satisfy all typical controls necessary for driver application in the high power amplification chain, by processing and managing the signals of Power input , Power gain adjustment, Phase in/out adjustment, RF switch-off.
Technical Specifications (th = 25 °C ; 50 OHm loaded ; Vdc = +48Vdc) 
Frequency range:  170 to 230 MHz

Class operation:  AB linear

Input ‐ Output impedance:  50 OHm

Input return loss:  

>

15 dB

Input power:  1 Wps max. 

Output power: 50W p.s. (10W DVB)

Harmonics emission:  

<

30dBc

Power supply requirement:  +48Vdc ±2% ; 4A max. ; +12V ; -5 Vdc 0.1A max

Drain efficiency:  

>

 35 % @ 50W CW
Heat sink requirement:  

<

 0.3 °C/W

RF input / Output:  Input SMB jack ; Output solder post

Operating temperature: -5°C to +45°C

Relative humidity: 20% to 90% non-condensing

Size: 60 x 100 x 15mm

Weight:  100gr.

 

 
Controls 
Power input detection: +3V = 1W input

Power output detection: +3V = 50W output

Power gain: -5 to +10V = 20dB range

Phase in/out: +4 to +24V = 60° range

RF switch-off: close contact to GND
---