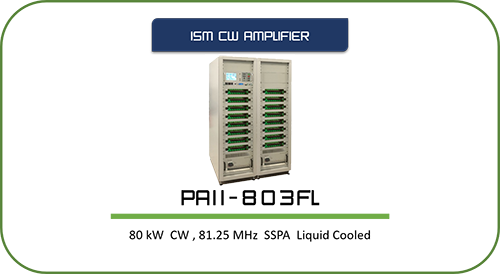 General information
The PA11 series belongs to the Very High Power Scientific application product family of fully solid state technology, liquid cooled amplifier. The PA11-803FL is operating at the frequency of 81,25MHz, with 80kW CW output power with the capability to operate with pulsed signal, maintaining a very high linearity. The amplifier have been designed to offer to the customer high performances, high reliability and great simplicity in operation and maintenance procedures, being at the same time extremely compact, using only 16 x 5,5 kW amplifier modules to obtain the nominal power of 80 kw in two 19" racks. In fact each of the two 45kW amplifier rack is made by 8 amplifier modules, combined through the relevant 8 way combining system, with plug-in RF connection. The modules are mounted on sliding rails, so any maintenance and check could be performed directly on the field. The 5,5kW amplifier module itself it is fully designed with direct RF connection, as well as DC supply connection , to minimize the use of cables and for a top level on field maintenance. The RF section combines 6 RF final amplifier of 1,2kW, and is driven by a dual stage high gain pre driver, with all the relevant controls section. Three AC/DC power supplies are enclosed in each module, for a high redundancy in case of failure. The control system is based on top level PLC system, with the relevant 7" touch screen display. It manages all the parameters. Alarms and control of the system, it is ready for remote access though web browser interface or to be controlled by SNMP management system. The final two ways combining system provides on a 4-1/2" connector the 80 kW RF output power and includes the relevant water cooled combiner termination loads.
Key Features 
FULLY SOLID STATE amplifier modules.

81,25MHz operating frequency.

CW and Pulsed Signal operating mode.

1mW input power (0dBm).

>60% Efficiency (Cooling system included ).

RF Signal free from spurious and harmonic signals.

LD-MOS of last generation in order to have ruggedness, reliability, and high efficiency.

Redundant 16 x 5,5kW RF amplifiers modules.

High Tolerance mains voltage (± 20 %) is accepted by the transmitter.

IEC 215 compliant with the personnel safety requirements applied.

Remote Operation compliant to IEC 864-1 rule (all option are available).

Control System based on top level PLC system , including 7" touch screen display and
web browser remote control.
PROTECTION AND CONTROL SYSTEMS
- High speed external interlock system ( <5μs ) , for critical RF shut off.
- Mains parameter setting available ( password protected )
- Main RF parameters protection

High Capacity Liquid cooling system fully integrated.


Ultra Compact design up to 80kW in just two 19" Rack 42U height.
---
 Dowload PDF File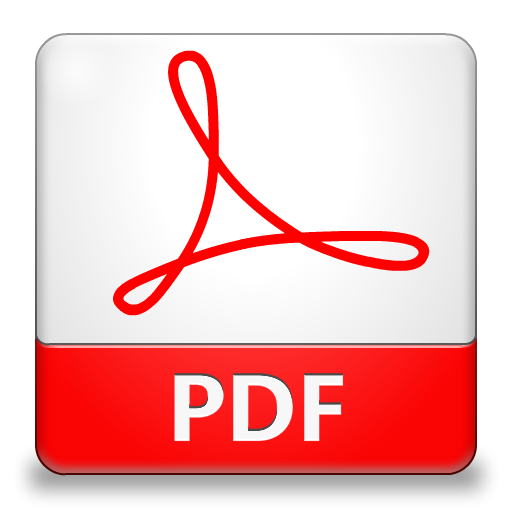 ---
 How to Order :
PA11-803FL – 80kW Amplifier