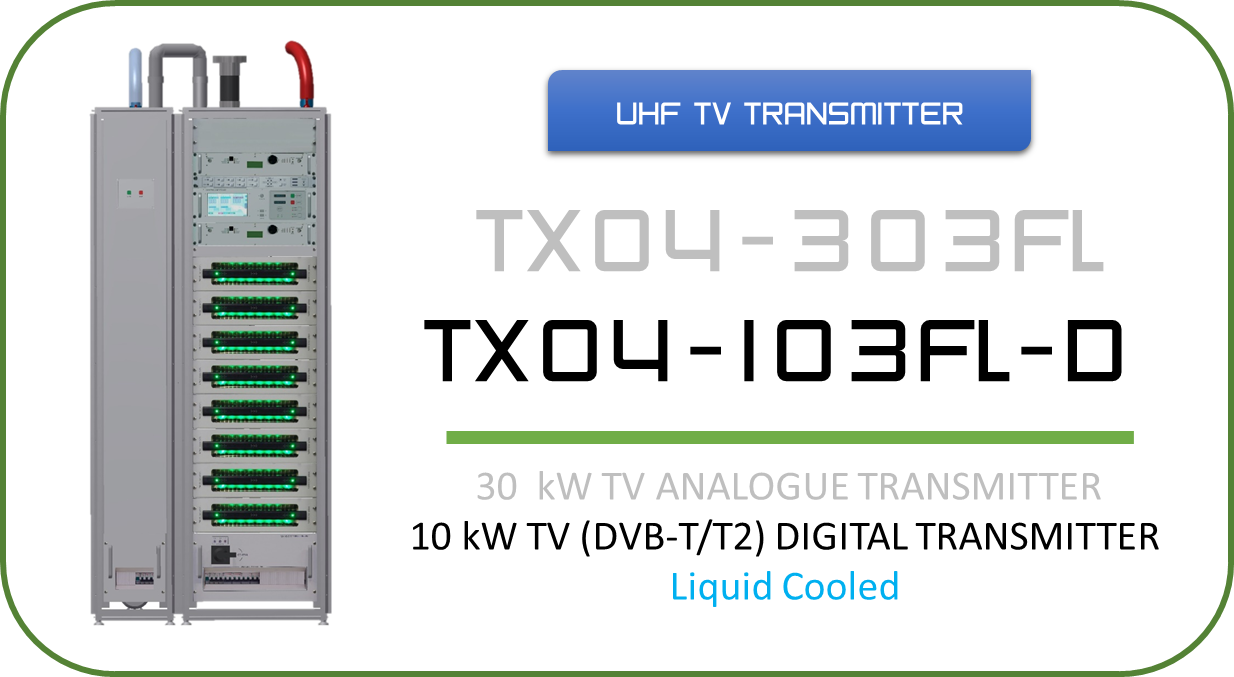 General information
This UHF TV transmitter family ranges from the analogue TX04-153A , 15.0 kWpsync (alias the TX04-502D, 5.0kW rms in DVBT/T2 ) down to the Analogue 3.0 kW psync (or 1.0 kW rms DVB-T/T2) provided by the TX04-302A (alias TX04-102D) , when the same structure is equipped at the minimum level. These equipment belong to the High Power series of TV Transmitters, solid state LDMOS technology, Liquid Cooled. The transmitter, broadband covering the full UHF Band 4&5, is designed for operating in a wide range of TV standards, namely the analogue TV (B/G, D/ K, M/N, I, colour coding standards SECAM, PAL, NTSC, sound FM mono, IRT dual-sound/stereo and NICAM) and the digital TV standards (DVBT, DVB-T2, ATSC , ISDBT). By a compact design and LDMOS technology, a 1.5 kWrms in DTV (4.5 kW psync in Analogue TV) output power is reached for each amplifier module when equipped with 9 pallet amplifiers. 
Key Features 
BROADBAND frequency synthesizer, without any other tuning or alignment.

Analog emission according to the standard.

Digital TV standard available DVB-T, DVB-T2, DVB-H, ISDB-T , ATSC.

SFN capability Suitable for single-frequency networks (SFN) and multi frequency networks (MFN).

Digital Adaptive Precorrector allows high performances and stability without any alignment or manual intervention during maintenance routine.

Output Filter built-in. 

LD-MOS technology for reliability and high linearity.

Redundancy , up to 4.5 kW ps RF power amplifier (analogue), 1.5 kW rms (digital).

Hot pluggable RF power amplifiers.

Low MTTR: 10 minutes maximum for any replacement unit.

Passive Reserve (1+1); (N+1) system configuration capability.

High Tolerance to mains voltage fluctuations (±20%) accepted by the transmitter.

Remote Operation compliant  to IEC 864-1 rule.

Remote monitoring and control via HTTP interface (Option).

Very low acoustic noise -65 dBA.
---
How to Order:

TX04-xxx-A – x.x kW Analogue TV 
TX04-xxx-D – x.x kWrms Digital TV
---